Irrational Games has announced the PC specifications for BioShock Infinite and according to their blog post, their highly anticipated first person shooter won't be just another run-of-the-mill PC port. It will in fact be enhanced by a bunch of features like horizontal plus widescreen support, a feature that allows gamers to view more of the game depending on the size of their monitor, AMD Eyefinity, NVIDIA Surround, and Matrox TripleHead2Go.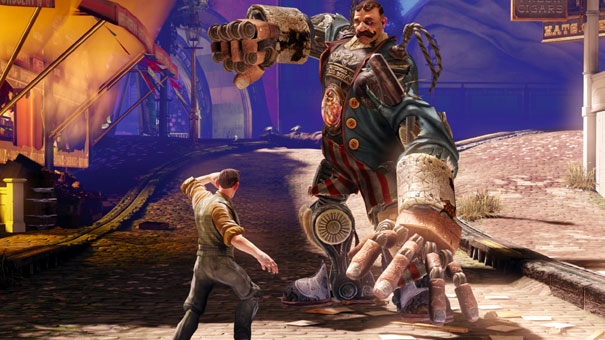 The game will also support multi-monitor gaming and will be scalable enough to work on moderately powered machines. At the same time, beefy rigs will be able to enjoy the game's visuals in all its DirectX 11 glory. So in case you were on the fence as far as platforms go, now you know.  Here's a look at the game's specs:
Minimum:
OS: Windows Vista Service Pack 2 32-bit
Processor: Intel Core 2 DUO 2.4 GHz / AMD Athlon X2 2.7 GHz
Memory: 2 GB
Hard Drive: 20 GB free
Video Card: DirectX10 Compatible ATI Radeon HD 3870 / NVIDIA 8800 GT / Intel HD 3000 Integrated Graphics
Video Card Memory: 512 MB
Sound Card: DirectX Compatible
Recommended:
OS: Windows 7 Service Pack 1 64-bit
Processor: Quad Core Processor
Memory: 4 GB
Hard Drive: 30 GB free
Video Card: DirectX11 Compatible, AMD Radeon HD 6950 / NVIDIA GeForce GTX 560
Video Card Memory: 1024 MB
Sound Card: DirectX Compatible
BioShock Infinite releases for the Xbox 360, PS3 and PC March 26th 2012.