Konami has released a host of details about Pro Evolution Soccer 2016, including an extensive trailer, the a list of improvements and features, and the release date.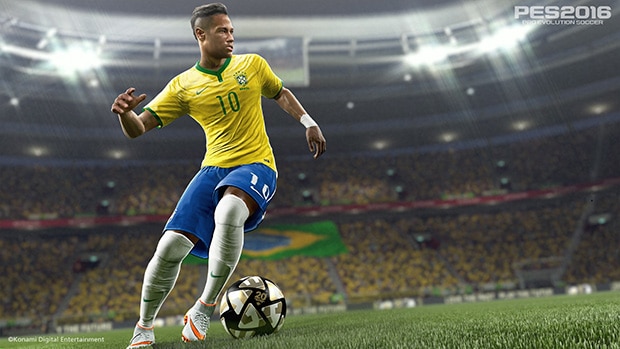 Here are some of the new features and improvements in PES 2016:
New Master League: Every element has been redesigned or reworked, from the vibrant and involving menus to the new and exciting player transfer system.
New visuals: Incorporating the many advancements of the Fox Engine. See the rain splash as players slide, or the turf kick up as you strike the ball. New night-time lighting and real turf textures.
Dynamic weather: Chance of rain starting during the game. Rain changes how the game can be played with passes speeding up, and players less skilled struggle with trapping. This feature is applied to all offline modes, including the Master League, becoming an important element to decide the outcome of the match.
Dynamic wide camera angle: Larger field of view. Depending on where the ball is on the pitch, the camera will tilt and zoom in/out to make sure the user has the best view possible.
New Commentary: Peter Drury will replace Jon Champion alongside Jim Beglin. An abundance of new lines and specific stories for Master League, responding to player transfers, player growth and team performance.
PS4 image importing: PS4 and PS3 can now import images into the game perfectly replicating any team kit or emblem the user wishes, including managers.
myClub: Introducing player level systems and players exclusive to the mode. Choose the manager, consider coaches, and build the strategy based on what you aim with your team.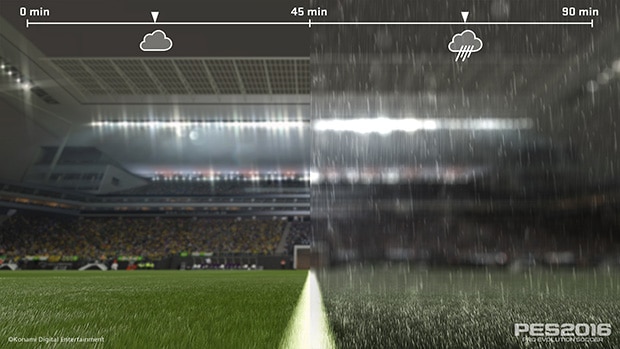 Konami has always prided itself on PES' gameplay and there are quite a few changes in that area as well:
Improved collisions: Calculating how players interact, creating a unique outcome depending on type of impact.
Focus on aerial battles: New physicality system. Use the left stick to battle the opposition to disrupt a larger more powerful player, or find the best position to make the header/volley.
1v1 control: Response times have been improved, allowing upgraded feint moves and sudden directional changes.
Improved defence: Performing a tackle at the perfect time will powerfully shove the player out of the way to secure the ball.
Intelligent AI: Players no longer reliant on manually triggering a 1-2, with teammates intelligently running off passes into space.
Goalkeeper ID: New goalkeeper parameters have been added, that now vary in catching, clearance, collapsing and deflecting.
Celebration control: Players have full control over goal celebrations. Prompts appear after a goal to trigger a trademark celebration, or unique actions.
New animations: 3x new animations. Goalkeepers have seen an abundance of save animations added, while outfield players shoot, pass, dribble and tackle in a countless variety depending on the situation. Players complain when a foul isn't given, or lament a teammate when a pass isn't made. Players are able to fool their opponents with shimmies and feints that can result in causing the opposing player to lose his balance and falling in the wrong direction.
New ball physics: Each spin, bobble and ricochet has been calculated using real ball physics data.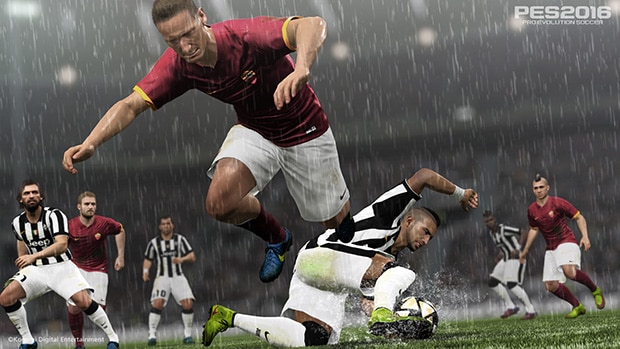 Based on these details, this appears to be the most significant update the PES franchise has seen in many years, and the first trailer for the game reflects many of these changes. Check out the trailer below.
Pro Evolution Soccer 2016 releases on 17th September for PS4, Xbox One, PC, PS3 and Xbox 360. Konami had earlier revealed that Neymar will be the cover star for this year's game.