WWE 2K14 for Rs 624; Crysis 3 for Rs 279; Hitman: Absolution for Rs 424 – these are prices that would surprise most even in a Steam sale, so to see these prices on PSN is pretty shocking. But PSN's January sale is littered with such crazy deals on both older and new releases across PS3, PS Vita and PSP.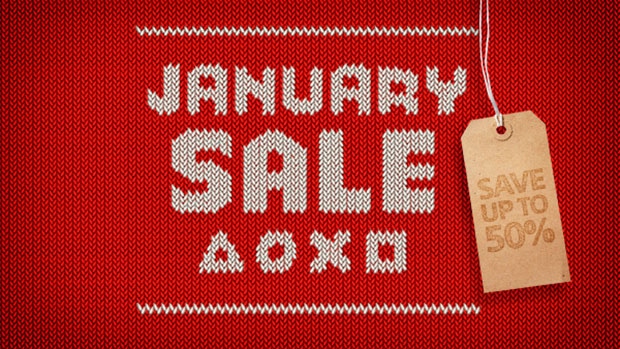 Ignore the 'up to 50%' part. They'e just being modest.
Running from 24th December through most of January 2014, the sale features over 150 games. Aside from those mentioned above, some of the deals that stood out for us were – Battlefield 4, Need for Speed Rivals and FIFA 14 at Rs 1,399 each, Ridge Racer Unbounded for Rs 199, Mass Effect 3 for Rs 479, Dishonored GOTY Edition for Rs 949, PES 2014 for Rs 949, Ni no Kuni for Rs 626, Sports Champions Complete (which includes both games) for Rs 399.
The deals aren't quite as impressive on the Vita front, although there are still a few gems, like Need for Speed Most Wanted at Rs 379, and Virtua Tennis 4 at Rs 303.
There are no PS4 games on sale, but with many of the games in the sale part of the PS3-PS4 upgrade program, you can buy the PS3 version and upgrade to the PS4 version by paying a lot less than you would if you bought the PS4 version directly.
Here's the full list of games on sale along with the dates on which they go off sale, along with Indian prices courtesy MCV India:
Deals ending 2nd January
NBA 2K14
Sale price: Rs 1,249
Original price: Rs 2,499
Borderlands 2
Sale price: Rs 474 (Free)
Original price: Rs 1,899
Spec Ops: The Line
Sale price: Rs 474
Original price: Rs 1,899
WWE 2K14
Sale price: Rs 624
Original price: Rs 2,499
XCOM: Enemy Unknown
Sale price: Rs 474 (Free)
Original price: Rs 1,899
BioShock
Sale price: Rs 216
Original price: Rs 900
BioShock 2
Sale price: Rs 299
Original price: Rs 1,199
Call of Duty Ghosts
Sale price: Rs 1,987
Original price: Rs 2,799
Dead Island Riptide
Sale price: Rs 816 (Rs 734)
Original price: Rs 1,899
Battlefield 4
Sale price: Rs 1,399
Original price: Rs 2,799
FIFA 14 (PS3)
Sale price: Rs 1,399
Original price: Rs 2,799
FIFA 14 (PS Vita)
Sale price: Rs 949
Original price: Rs 1,899
GTA IV: The Complete Edition
Sale price: Rs 607 (Rs 546)
Original price: Rs 1,899
Castle of Illusion: Starring Mickey Mouse
Sale price: Rs 390 (Rs 293)
Original price: Rs 780
Deals ending 8th January
God of War: Ascension
Sale price: Rs 1,177 (Rs 1,059)
Original price: Rs 1,899
Puppeteer
Sale price: Rs 949 (Rs 854)
Original price: Rs 1,899
F1 2013
Sale price: Rs 1,049
Original price: Rs 2,499
GRID 2
Sale price: Rs 1,152 (1,037)
Original price: Rs 3,600
Mass Effect 3
Sale price: Rs 479
Original price: Rs 1,199
Need for Speed Rivals
Sale price: Rs 1,399
Original price: Rs 2,799
MotoGP 13 (PS3)
Sale price: Rs 759 (Rs 683)
Original price: Rs 1,899
MotoGP 13 (PS Vita)
Sale price: Rs 713 (Rs 642)
Original price: Rs 1,659
Assassin's Creed Brotherhood Complete Pack
Sale price: Rs 600 (Rs 540)
Original price: Rs 1,200
Assassin's Creed Revelations
Sale price: Rs 603 (Rs 543)
Original price: Rs 900
Assassin's Creed III Classic Edition
Sale price: Rs 1,800
Original price: Rs 1,800
Assassin's Creed III Liberation (PS Vita)
Sale price: Rs 949 (Rs 854)
Original price: Rs 1,899
Deals ending 15th January
DmC Devil May Cry
Sale price: Rs 499 (Free)
Original price: Rs 999
Lost Planet 3
Sale price: Rs 824 (Rs 742)
Original price: Rs 2,499
Okami HD
Sale price: Rs 617 (Rs 555)
Original price: Rs 870
Remember Me
Sale price: Rs 949 (Free)
Original price: Rs 1,899
Resident Evil 6
Sale price: Rs 959 (Rs 854)
Original price: Rs 1,899
Resident Evil Revelations
Sale price: Rs 1,139 (Rs 1,025)
Original price: Rs 1,899
Super Street Fighter IV Arcade Edition
Sale price: Rs 450 (Rs 405)
Original price: Rs 900
Dead Rising 2 Off The Record
Sale price: Rs 360 (Rs 324)
Original price: Rs 900
Devil May Cry HD Collection
Sale price: Rs 816 (Rs 734)
Original price: Rs 1,899
Dragon's Dogma: Dark Arisen
Sale price: Rs 949 (Rs 854)
Original price: Rs 1,899
Street Fighter X Tekken (PS3)
Sale price: Rs 600 (Rs 540)
Original price: Rs 1,200
Street Fighter X Tekken (PS Vita)
Sale price: Rs 751 (Rs 676)
Original price: Rs 2700
Ultimate Marvel vs. Capcom 3 (PS Vita)
Sale price: Rs 812 (739)
Original price: Rs 1,899
Deals ending 22nd January
Hitman: Absolution
Sale price: Rs 424 (Rs 382)
Original price: Rs 3,600
Sleeping Dogs
Sale price: Rs 599 (Rs 539)
Original price: Rs 1,200
Tomb Raider
Sale price: Rs 999 (Rs 899)
Original price: Rs 2,499
Ridge Racer Unbounded – Special Edition
Sale price: Rs 199
Original price: Rs 999
Brothers: A Tale of Two Sons
Sale price: Rs 297 (Rs 267)
Original price: Rs 900
Payday 2
Sale price: Rs 702 (Rs 632)
Original price: Rs 1,899
Fast & Furious: Showdown
Sale price: Rs 1,800
Original price: Rs 2,400
The Amazing Spider-Man
Sale price: Rs 949
Original price: Rs 1,899
Tony Hawk's Pro Skater HD
Sale price: Rs 450
Original price: Rs 900
Prototype 2
Sale price: Rs 569
Original price: Rs 1,899
Transformers: Fall of Cybertron
Sale price: Rs 1,899
Original price: Rs 1,899
Men In Black: Alien Crisis
Sale price: Rs 493
Original price: Rs 1,899
Walking Dead: Survival Instinct
Sale price: Rs 1,139
Original price: Rs 1,899
Blade Kitten
Sale price: Rs 178 (Rs 160)
Original price: Rs 540
Dishonored GOTY Edition
Sale price: Rs 949 (Rs 854)
Original price: Rs 1,899
Sniper Ghost Warrior 2
Sale price: Rs 1,200 (Rs 1,080)
Original price: Rs 1,899
Zack Zero
Sale price: Rs 120 (Rs 108)
Original price: Rs 600
LEGO Pirates of the Caribbean
Sale price: Rs 599 (Rs 539)
Original price: Rs 1,199
Toy Story 3
Sale price: Rs 599 (Rs 539)
Original price: Rs 1,199
Disney Pixar Cars 2 The Video Game
Sale price: Rs 599 (Rs 539)
Original price: Rs 1,199
Battlefield 3
Sale price: Rs 307
Original price: Rs 2,799
Crysis
Sale price: Rs 300
Original price: Rs 1,200
Crysis 2
Sale price: Rs 299
Original price: Rs 1,199
Crysis 3
Sale price: Rs 279
Original price: Rs 2,799
Dead Space 2
Sale price: Rs 512
Original price: Rs 1,899
Dead Space 3
Sale price: Rs 307
Original price: Rs 2,799
FIFA Street
Sale price: Rs 486
Original price: Rs 1,800
Medal of Honor Warfighter
Sale price: Rs 512
Original price: Rs 1,899
Mass Effect
Sale price: Rs 297
Original price: Rs 900
Mass Effect 2
Sale price: Rs 512
Original price: Rs 1,899
Need for Speed Most Wanted
Sale price: Rs 307
Original price: Rs 2,799
Need for Speed Hot Pursuit
Sale price: Rs 299
Original price: Rs 1,199
Kingdoms of Amalur: Reckoning
Sale price: Rs 512
Original price: Rs 1,899
Dragon Age II
Sale price: Rs 299
Original price: Rs 1,199
Dragon Age: Origins
Sale price: Rs 299
Original price: Rs 1,199
Mirror's Edge
Sale price: Rs 300
Original price: Rs 1,200
Battlefield: Bad Company 2
Sale price: Rs 299
Original price: Rs 1,199
Army of Two The Devil's Cartel
Sale price: Rs 279
Original price: Rs 2,799
SSX
Sale price: Rs 512
Original price: Rs 1,899
EA Sports MMA
Sale price: Rs 322
Original price: Rs 1,899
Burnout Crash
Sale price: Rs 240
Original price: Rs 600
Burnout Paradise
Sale price: Rs 299
Original price: Rs 1,199
Tiger Woods PGA TOUR 14
Sale price: Rs 391
Original price: Rs 2,799
Farming Simulator
Sale price: Rs 1,177 (Rs 1,059)
Original price: Rs 1,899
Tour de France 2013 – 100th Edition
Sale price: Rs 626 (Rs 563)
Original price: Rs 1,899
PES 2014 – Pro Evolution Soccer Digital Premium Edition
Sale price: Rs 949
Original price: Rs 1,899
MUD – FIM Motocross World Championship
Sale price: Rs 322
Original price: Rs 1,899
Armored Core: Verdict Day
Sale price: Rs 752 (Rs 677)
Original price: Rs 1,710
Ni no Kuni: Wrath of the White Witch
Sale price: Rs 626 (Rs 563)
Original price: Rs 1,899
Tales of Xillia
Sale price: Rs 1,674 (Rs 1,507)
Original price: Rs 2,499
Tekken Tag Tournament 2
Sale price: Rs 949
Original price: Rs 1,899
SoulCalibur V – Legendary Edition
Sale price: Rs 900
Original price: Rs 1,800
Tales of Graces f – Knight Edition
Sale price: Rs 624
Original price: Rs 2,499
Persona 4 Arena
Sale price: Rs 759 (Rs 683)
Original price: Rs 1,899
Anarchy Reigns
Sale price: Rs 399 (Rs 359)
Original price: Rs 1,500
Comix Zone
Sale price: Rs 118 (Rs 106)
Original price: Rs 270
Sonic the Hedgehog
Sale price: Rs 118 (Rs 106)
Original price: Rs 270
Aliens: Colonial Marines
Sale price: Rs 626 (Rs 563)
Original price: Rs 1,899
Jet Set Radio
Sale price: Rs 240 (Rs 216)
Original price: Rs 480
Sonic Adventure 2
Sale price: Rs 240 (Rs 216)
Original price: Rs 480
Warhammer 40,000: Space Marine
Sale price: Rs 626 (Rs 563)
Original price: Rs 1,899
HISTORY Legends of War
Sale price: Rs 1,082 (Rs 974)
Original price: Rs 1,899
The King of Fighters '96
Sale price: Rs 302 (Rs 272)
Original price: Rs 540
LittleBigPlanet 2
Sale price: Rs 603 (Rs 543)
Original price: Rs 900
LittleBigPlanet Karting
Sale price: Rs 599 (Free)
Original price: Rs 1,200
Dare to Fly
Sale price: Rs 120 (Rs 108)
Original price: Rs 300
Sports Champions Complete
Sale price: Rs 399 (Rs 359)
Original price: Rs 1,500
Assassin's Creed II
Sale price: Rs 603 (Rs 543)
Original price: Rs 900
R.U.S.E
Sale price: Rs 297 (Rs 267)
Original price: Rs 900
Rayman Origins
Sale price: Rs 599 (Rs 539)
Original price: Rs 1,199
From Dust
Sale price: Rs 900
Original price: Rs 1,199
Batman: Arkham Asylum
Sale price: Rs 599 (Rs 539)
Original price: Rs 1,200
Batman: Arkham City
Sale price: Rs 949 (Rs 854)
Original price: Rs 1,800
Injustice: Gods Among Us
Sale price: Rs 1,576 (Rs 1,418)
Original price: Rs 1,899
LEGO Batman 2: DC Super Heroes
Sale price: Rs 949 (Rs 854)
Original price: Rs 1,899
LEGO The Lord of the Rings
Sale price: Rs 999 (Rs 899)
Original price: Rs 1,899
Mortal Kombat Arcade Kollection
Sale price: Rs 300 (Rs 270)
Original price: Rs 600
PSP/PS Vita Deals ending 22nd January
Army Corps of Hell
Sale price: Rs 702 (Rs 632)
Original price: Rs 1,899
Blood Bowl
Sale price: Rs 180 (162)
Original price: Rs 600
Muramasa Rebirth
Sale price: Rs 750 (Rs 675)
Original price: Rs 1,500
LEGO Pirates of the Caribbean
Sale price: Rs 300 (Rs 270)
Original price: Rs 600
Mickey's Wild Adventure
Sale price: Rs 180 (162)
Original price: Rs 300
Wall-E
Sale price: Rs 300 (Rs 270)
Original price: Rs 600
Star Wars: Battlefront Renegade Squadron
Sale price: Rs 300 (Rs 270)
Original price: Rs 600
LEGO Star Wars III: The Clone Wars
Sale price: Rs 300 (Rs 270)
Original price: Rs 600
LEGO Indiana Jones: TOA
Sale price: Rs 300 (Rs 270)
Original price: Rs 600
Need for Speed Most Wanted
Sale price: Rs 379
Original price: Rs 1,899
Farming Simulator
Sale price: Rs 240 (Rs 216)
Original price: Rs 480
Tekken 6
Sale price: Rs 300
Original price: Rs 600
Touch My Katamari
Sale price: Rs 299
Original price: Rs 1,199
Kung Fu Rabbit
Sale price: Rs 150 (Rs 135)
Original price: Rs 300
Puddle
Sale price: Rs 151
Original price: Rs 420
Harvest Moon: Hero of Leaf Valley
Sale price: Rs 423 (Rs 381)
Original price: Rs 900
Valhalla Knights
Sale price: Rs 179 (Rs 161)
Original price: Rs 390
Valhalla Knights 2
Sale price: Rs 300 (270)
Original price: Rs 600
Valhalla Knights 2: Battle Stance
Sale price: Rs 296 (Rs 266)
Original price: Rs 780
Valhalla Knights 3
Sale price: Rs 756 (Rs 680)
Original price: Rs 1,800
Jet Set Radio
Sale price: Rs 240 (Rs 216)
Original price: Rs 480
Super Monkey Ball Banana Splitz
Sale price: Rs 626 (Rs 563)
Original price: Rs 1,899
Virtua Tennis 4: World Tour Edition
Sale price: Rs 303 (Rs 273)
Original price: Rs 1,899
HISTORY Legends of War
Sale price: Rs 1,197 (Rs 1,077)
Original price: Rs 2,100
Metal Slug
Sale price: Rs 180 (Rs 162)
Original price: Rs 420
Metal Slug 2
Sale price: Rs 180 (Rs 162)
Original price: Rs 420
Metal Slug XX
Sale price: Rs 300 (Rs 270)
Original price: Rs 600
The King of Fighters '96
Sale price: Rs 180 (Rs 162)
Original price: Rs 420
LittleBigPlanet PlayStation Vita
Sale price: Rs 756 (Rs 680)
Original price: Rs 900
LocoRoco
Sale price: Rs 240
Original price: Rs 390
Jak II: Renegade
Sale price: Rs 360 (Rs 324)
Original price: Rs 900
Open Me
Sale price: Rs 240 (Rs 216)
Original price: Rs 480
Reality Fighters
Sale price: Rs 422 (Rs 380)
Original price: Rs 600
Little Deviants
Sale price: Rs 422 (Rs 380)
Original price: Rs 600
Everybody's Golf
Sale price: Rs 422 (Rs 380)
Original price: Rs 600
WipEout 2048
Sale price: Rs 598 (Rs 538)
Original price: Rs 870
ModNation Racers: Road Trip
Sale price: Rs 598 (Rs 538)
Original price: Rs 900
Unit 13
Sale price: Rs 530 (Rs 477)
Original price: Rs 900
Assassin's Creed: Bloodlines
Sale price: Rs 300 (Rs 270)
Original price: Rs 599
Rayman Origins
Sale price: Rs 599 (Rs 539)
Original price: Rs 1,199
Real Boxing
Sale price: Rs 420 (Rs 336)
Original price: Rs 600
LEGO Legends of Chima Laval's Journey
Sale price: Rs 949 (Rs 654)
Original price: Rs 1,899
LEGO Batman 2: DC Super Heroes
Sale price: Rs 1,263 (Rs 1,137)
Original price: Rs 1,579
LEGO The Lord of the Rings
Sale price: Rs 1,272 (Rs 1,145)
Original price: Rs 1,899
LEGO Harry Potter: Years 5-7
Sale price: Rs 947 (852)
Original price: Rs 1,579