XPAND RALLY
What is it about?
Xpand Rally is a challenging off-road rally racing game developed by Techland, the developer behind Call of Juarez and Dead Island. The game features about twenty rally cars and about sixty stage variations. The game also offers two driving models – Arcade and Simulation, so as to cater to both audiences, albeit the simulation mode feels quite arcade-ish as well. Unlike the recent Dirt games, Xpand Rally is a pure rally game that delivers challenging gameplay, accessible tuning and upgrades, a lengthy championship mode, solid physics and sublime visuals even by today's standards.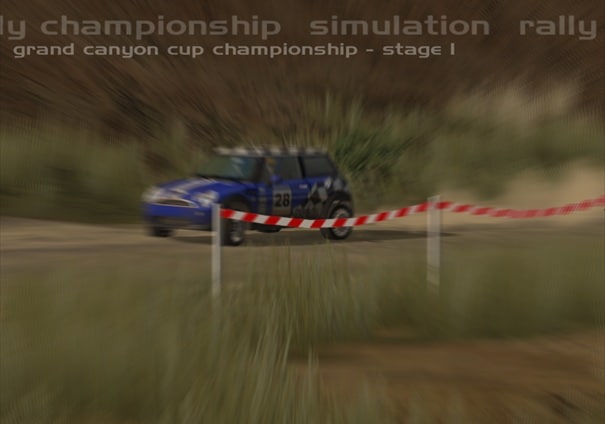 Why should I play it now?
Back when it released, the game was lost in the crowd due to the stiff competition and the fact that the cars, the environments and the events were not licensed. But that aside, it's a properly good rally game waiting to be played. The driving models are done well, with the arcade mode oozing with fun gameplay that'll go down well with casual players. The simulation mode delivers tight, challenging gameplay with an impressive and realistic damage physics model to keep the sim veterans interested. There's quite an arcade-ish feel to driving physics in the sim mode, but the challenging gameplay and realistic damage make up for it. Xpand Rally features one of the best damage models I've seen among rally titles over the years. In the sim mode, each stage requires you to setup your car ever so perfectly to beat the timings. And if setup and tuning is not your cup of tea, the game is so accessible in this area. Each option is well explained, and quantification is provided in layman's terms instead of complex numerals and jargon, making tuning easy for new players.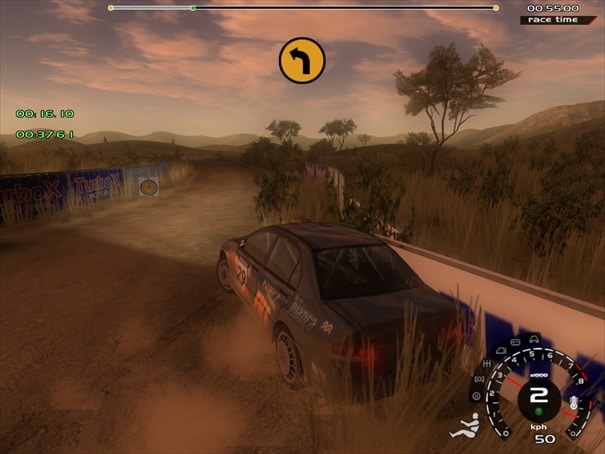 How does it hold up today?
In one word – superbly! The game released in 2004, and even today the visuals look sublime. Xpand Rally uses bloom very well. One drawback is that the game doesn't support widescreen resolutions, so I had to make do with 1024×768. But that doesn't stretch the screen, and the game was still very much playable. Apart from the visuals, the engine sounds and other environmental sound effects are done brilliantly, but the menu background music gets repetitive after a while. Unlike many other rally titles, Xpand Rally enforces rules very strictly, resetting your car with an added time penalty if you stray away from the track to gain an advantage or even, *ahem* try to run over the daring photographer. Even though the game shipped with a competitive multiplayer option, the servers went offline years ago. Unfortunately, no split-screen multiplayer option is available either. LAN multiplayer, however, can still be enjoyed at its gloriest best.
Is it similar to anything else out there?
There are a few similar rally titles around, such as the Colin McRae Rally series and Sega Rally. Although, they are similar in nature, rally fans will appreciate the uniqueness in the way that Xpand Rally renders rally racing in comparison to its competitors.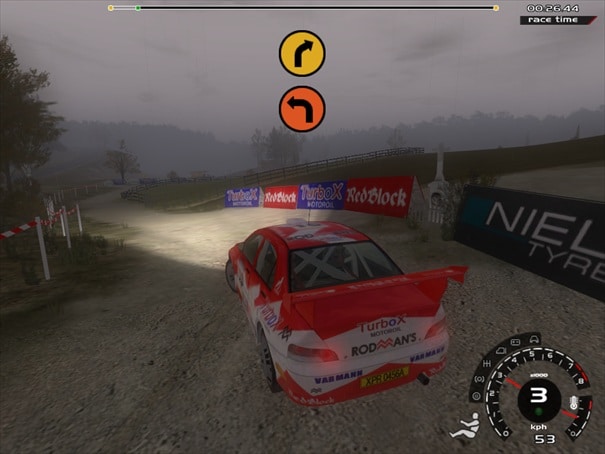 What do I need to play this?
You will need a Pentium 4 or an equivalent processor, 512 MB of RAM, a 128 MB graphics card and around a GB of hard disk space to enjoy this game. I noticed slight framerate drops once in a while on my windows 7 PC; nothing that warrants concern though.
'When I played through…'
I had to spend quite some time setting up my cars for each stage to even match the AI timings. Also, whenever I installed a new part, I could feel the difference it made to the performance; needless to say what new tyres brought to the table. The attention to detail in gameplay is what impressed me the most. Once, I thought I could waltz through a stage with an overpowered car, but ended up making a fool of myself when the car just started spinning the wheels and lighting up the tyres most of the time, unable to put all that power onto the slush. Lesson learnt. Although Xpand Rally was developed primarily for the keyboard, it supported my Driving Force GT wheel, but felt lacking in feedback and control. My Xbox 360 controller did the trick though, even though it didn't support rumble. Apart from that, one aspect that wouldn't have mattered back in 2004, but grows frustrating now is the fact that the game is designed for a fair amount of grinding through the same stages multiple times.
Is there anything else I should be aware of (i.e. mods, crazy glitches, contribution to pop culture, Internet meme, etc)?
If you are spoilt by this generation games' with fluid progression, you might want to skip the grinding part. Luckily, there's an 'AddCash' cheat, which you can use to add money to your account via the game's console. This way, you can upgrade your cars in a jiffy and be done with the stages. Another cheat allows you unlock all the stages in the single player mode. There are a few other cheats as well, but they just end up killing the fun.
Where do I get it?
You can get the game from Green Man Gaming for $9.99. If you feel that price is a bit steep, you can wait for promotional offers, or hunt down discount coupons (like I did) to lower the price a little.