2009 wasn't the best year for new IP. Like most experts, let's just blame it all on recession and assume that publishers felt they were better off investing in existing IP rather than risk new ones and lose money. Jokes apart, new IP are the backbone of the gaming industry, because not only is it important to remember that every Goliath in gaming started off as a David, but new IP are a perfect way to bring new ideas and a fresh perspective to the table.
And IVG's pick for the Best New IP of 2009 is the perfect example of a fresh perspective on a license that has been ailing from a steady stream of poor to mediocre games. Rocksteady created what is arguably the best Batman (and superhero) video game in Batman: Arkham Asylum and kicked off a series which could very well set the standard on how to make superhero videogames. The near perfect realisation of characters from the Batman universe, coupled with a brilliant atmosphere that rivals Bioshock in execution, and immaculate pacing gave gamers the most authentic Batman experience till date.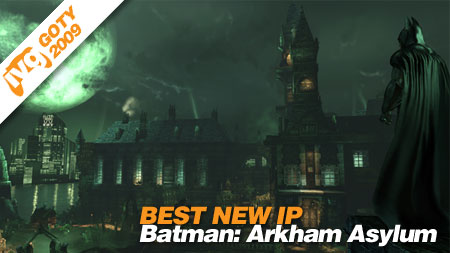 In the RPG arena, Dragon Age: Origin charmed us as we lost ourselves in the beautifully crafted story brought to life by brilliant characters and a top quality script. Demon's Soul, along with its tough as nails difficulty, brought some very interesting new ideas for online gaming in RPGs. Before Arkham Asylum came along, inFamous enjoyed a short stint as the best superhero game for a couple of months with its addictive gameplay, branching storylines and a beautifully realised city that reacted to the player's actions in ways never seen before. Shadow Complex is quite possibly the best side-scroller to come along in the past few years, reinvigorating the classic genre with new ideas and brilliant execution. And UFC 2009: Undisputed was a breath of fresh air for a sub-genre that has been dominated by the now-generic gameplay of WWE games.
The IVG staff pick however is Borderlands. The idea of playing 'Diablo with guns' was always an attractive one, and the final game did not disappoint. When played co-operatively, the game is a totally different beast with unrivalled fun. And with its quirky characters, a desolate and hostile world, unique graphics, and 'lots and lots of guns', Borderlands was the IVG staff's sure-shot choice for the Best New IP of 2009.
IVG Staff Pick: Borderlands