There are games that delight us and there are games that are so bad that they make us want to throw the controller out of the window (hopefully, with a magical lock-on device which makes it zero in and bounce from head to head of the development team). Then there are games that disappoint. They don't necessarily have to be bad, but while playing them one can't help but feel that the developers dropped the proverbial ball somewhere along the line.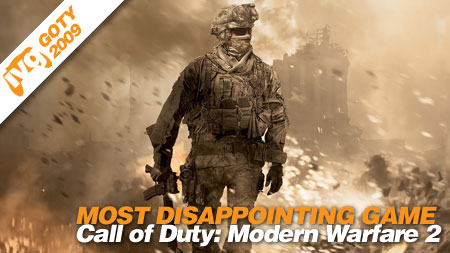 This year, the behemoth known as Call of Duty: Modern Warfare 2 led the member voting for the category for passing off a mostly copy-paste job as a sequel. Considering that two years had passed since the first wowed the world, the lack of significant improvements in the graphics and gameplay stuck out as sore points. While the latter can still be forgiven because the gameplay was excellent to begin with, an even shorter single player campaign featuring a mostly nonsensical story that was probably an influence of watching too much 24 on the developers' part is unacceptable. And let's not forget the high price tag it came with. All in all, it felt like a lazy effort from Infinity Ward, who chose to rest on the laurels of past accomplishments than create something which is a true testament to their talents. The sad part is that it worked.
FIFA 10 suffered from a similar issue, with marginal improvements and a bug-riddled final product. Fat Princess, Ashes Cricket 2009 and Gran Turismo PSP also fell short on their promises, thanks to some questionable design choices.
But the one to break our hearts and throw it in a valley was Brutal Legend. Before it released, it was the stuff pixelated dreams are made of. It was the brainchild of the incredibly talented and twisted mind of Tim Schafer, featured Jack Black and many heavy metal legends, and with ample marketing support from EA, the game was one of the most eagerly awaited games of 2009. However, the blend of action and real-time strategy just didn't cut it for many, leaving a frustrating (yet charming) jack-of-all-trades-master-of-none as the final product.
IVG Staff Pick: Brutal Legend