Turn 10, the studio behind Forza Motorsport 4 has just announced the Limited Collecter's Edition contents at their site. The LCE contains ten classic American muscle cars add-on pack, as well as "Cars of Forza Motorsport 4 presented by Top Gear" a 96-page volume written by the editors at Top Gear.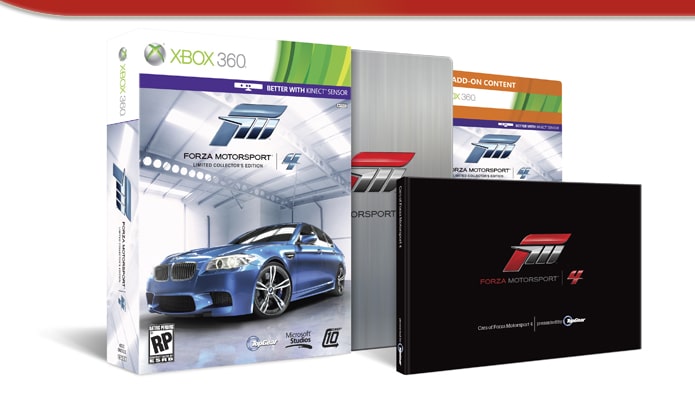 The VIP Car Pack:
2011 Bugatti Veyron Super Sport
2011 Ferrari 458 Challenge
2011 Lamborghini Gallardo LP570-4 Superleggera
2010 Noble M600
2011 RUF Rt 12 R
The limited quantity "Ship Bonus" car pack available for fans who order Forza 4 early:
1965 Ford Mustang GT Coupe
2011 Koenigsegg Agera
1997 Lexus SC300
2011 RUF RGT-8
2011 Tesla Roadster Sport
You will also receive a 2012 BMW M5 if you go for the Limited Edition, and the car also features on the cover of the LCE version. Forza Motorsport 4 will release on October 11th exclusively for the Xbox 360, and will be distributed in India via Redington.