Bethesda has unveiled Skyrim's collectors edition and it contains a detailed Dragon figurine. The CE is priced at $150 in the US, which seems a bit too steep but hey, it's Skyrim. Bethesda VP of marketing, Pete Hines said, "We always say that we make the games we want to play. We can also say we create the collector's editions we'd want to own."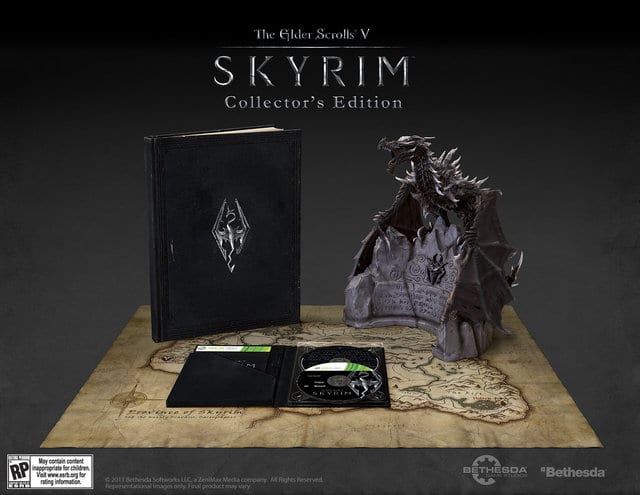 So, is this collectors edition worth owning? Please check out the complete details below.
Alduin Statue: Created in conjunction with the IP Factory, this collector's only statue stands 12″ tall and is made of high quality PVC. Modeled from actual in-game 3D digital files, it showcases Alduin, the World Eater. He stands perched atop one the game's many dragon walls that teach the player the lethal language of dragons.
'The Art of Skyrim' Official Art Book: Featuring over 200 pages of striking, full-color illustrations, sketches and models, this stunning 9 3/8″ x 12 1/8″ coffee table book showcases the characters, creatures, environments, and weaponry of Skyrim. With a foreword by game director Todd Howard and commentary from Bethesda Game Studios artists, readers will be guided through the game's iconic visual style.
'The Making of The Elder Scrolls V: Skyrim' DVD: This documentary DVD contains exclusive, behind-the-scenes footage, including interviews with the Bethesda Game Studios team as they take you from concept to creation and provide insights into the story, gameplay, setting, legacy of the Elder Scrolls franchise, and much more.
The game will be out on November 11th for the PC, PS3 and the Xbox 360 and is shaping up to be one of the best RPGs ever.