Update: Games The Shop has also announced that it will hold midnight launches in three of its Mumbai stores – Oberoi Mall (Goegaon East), Infiniti 2 Mall (Malad West), and R City Mall (Ghatkopar West).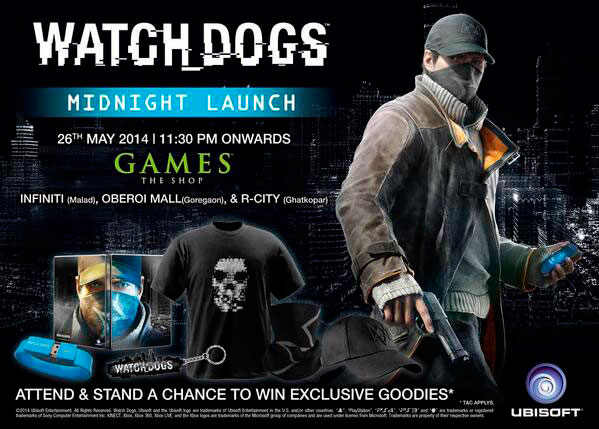 Distributor E-xpress Interactive has also said that those purchasing the game at a midnight launch will receive exclusive Watch Dogs goodies.
Original story:
Retailer Landmark has announced that it will hold a midnight launch for Watch Dogs at its stores in five cities. Here's the complete list:
Mumbai: Infiniti Mall (Andheri West)
Mumbai: Inorbit Mall (Vashi)
Pune: SGS Mall (Pune Camp)
Bangalore: Orion Mall (Malleshwaram–Rajajinagar)
Bangalore: Forum Mall (Koramangala)
New Delhi: Ambience Mall (Vasant Kunj)
These include two stores in Mumbai , two in Bangalore, and one each in Pune, Hyderabad and Delhi. We'll update the story with store specifics as we get them.
Landmark is also giving away a poster, badge and lanyard to those who preorder the game from them.
Watch Dogs releases on 27th May for PC, PS3, Xbox 360 and PS4.