Assassin's Creed IV: Black Flag will be getting a midnight launch in Mumbai on the 28th of October 2013 Express Interactive has just informed us.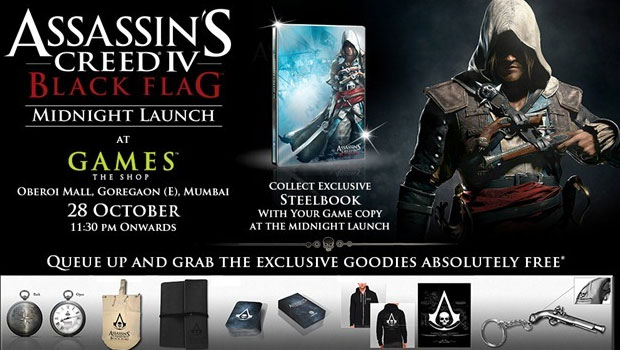 If you've already pre-ordered the game, you can pick up your copy at the launch, and you'll even get upgraded to a Steel Book free of cost.
Besides that, you stand to win Assassin's Creed IV: Black Flag swag in the form of diaries, key chains, posters, stickers, t-shirts, bags and playing cards. Plus, if you're really lucky, you can score an Assassin's Creed IV: Black Flag poster signed by the developers themselves.
Assassin's Creed 4: Black Flag will arrive on 29th October, 2013 worldwide for the Xbox 360 and PS3. However, the PC and next-gen console versions will be available only by 22nd November, 2013.