Gaming peripherals from Mad Catz will be distributed in India by Origin Games.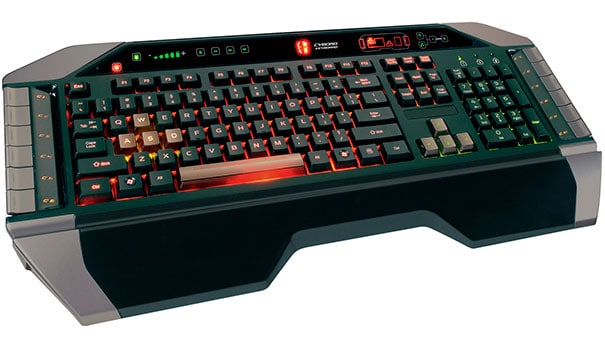 The Mad Catz C.Y.B.O.R.G. V.7 Gaming Keyboard
Origin has sent over a list of 21 products that it will sell in India, which includes gaming keyboards, mice, gaming surfaces and flight simulation controllers.
Mad Catz also owns brands such as Saitek and Tritton, and while select products from the former will be available in India, the list is missing Tritton's line of audio products.
Here's the full list:
Mad Catz R.A.T. 3 Gaming Mouse (PC and Mac) Matte Black – Rs 4,990
Mad Catz R.A.T.7 Gaming Mouse (PC and Mac) Matte Black – Rs 8,990
Mad Catz R.A.T.7 Gaming Mouse(PC and Mac) Gloss Black – Rs 8,990
Mad Catz R.A.T.9 Wireless Gaming Mouse (PC and Mac) Matte Black – Rs 12,990
Mad Catz R.A.T.M Wireless Mobile Gaming Mouse (PC, Mac, and Mobile) Matte Black – Rs 12,990
Mad Catz M.O.U.S.9 Wireless Gaming Mouse (PC, Mac, and Mobile) Matte Black – Rs 12,990
Mad Catz C.Y.B.O.R.G. V.7 Gaming Keyboard (PC) – Rs 6,990
Mad Catz S.T.R.I.K.E. 3 Gaming Keyboard (PC) White – Rs 10,990
Mad Catz G.L.I.D.E. 3 Gaming Surface – Rs 990
Mad Catz G.L.I.D.E. 7 Gaming Surface – Rs 2,790
MadCatz CYBORG V.1 Flight Stick (PC) – Rs 2490
MadCatz CYBORG F.L.Y. 5 Flight Stick – Rs 4990
Saitek X52 Pro Flight Control System – Rs 15,990
Saitek Pro Flight Yoke System – Rs 11,990
Saitek Pro Flight Throttle Quadrant – Rs 4,990
Saitek Pro Flight Rudder Pedals with Toe Brakes – Rs 11,190
Saitek Pro Flight Combat Rudder Pedals – Rs 14,990
Saitek Pro Flight Instrument Panel with landing gear controls – Rs 11,990
Saitek Pro Flight Switch Panel – Rs 7,990
Saitek Pro Flight Radio Panel with LED Display – Rs 11,990
Saitek Pro Flight Multi Panel with LED Display – Rs 11,990
Saitek X-65F Combat Control System – Rs 32,990
Saitek Pro Flight Backlit Information Panel (BIP) – Rs 11,990
Saitek Pro Flight TPM (Throttle/ Prop/ Mixture Axis) – Rs 11,990