Update: A European release for all three bundles has also been announced, so an Indian release now seems very likely.
Original story
A bundle containing blockbuster PS3 titles Uncharted: Drake's Fortune and Uncharted 2: Among Thieves will be out next month (July 22) if a listing on US retailer Best Buy is to be believed. Moreover, the bundle will contain some unlocks for Uncharted 3: Drake's Deception. Sony is also planning to release bundles for Resistance and Ratchet & Clank, both of which are also scheduled for release on July 22.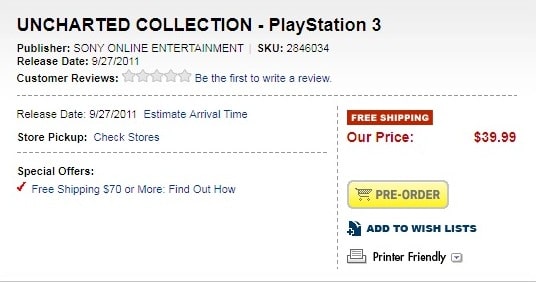 The Resistance bundle contains the first two games and an exclusive skin for Resistance 3, while the Ratchet and Clank bundle contains four avatars and an exclusive dynamic theme for the upcoming game Ratchet & Clank: All 4 One, in addition to the games from the Future series – Tools of Destruction and A Crack in Time.
Uncharted 3: Drake's Deception releases on November 1. Its predecessor was the first game to score an impressive 10/10 on IVG. Resistance 3 is set for release on September 6, and Ratchet & Clank: All 4 One hits store shelves on October 21. All three games will be available in India for Rs 2,499 only on PS3, however, we'll have to wait for official confirmation of prices and release dates for the collections.