Seeing the WWE games evolve from the PlayStation 1 and Nintendo 64 era to current-generation hardware has been a rollercoaster of emotions for old school wrestling game fans like myself. Ever since 2K took over, things have been slowly changing as gameplay moves to a more simulation and realistic experience as opposed to arcade fun that was seen in the PS2 era. I got to spend some time with a pre-release build of WWE 2K17 and experience some of the new features like Backstage Brawl, in addition to playing around with the new customisation options.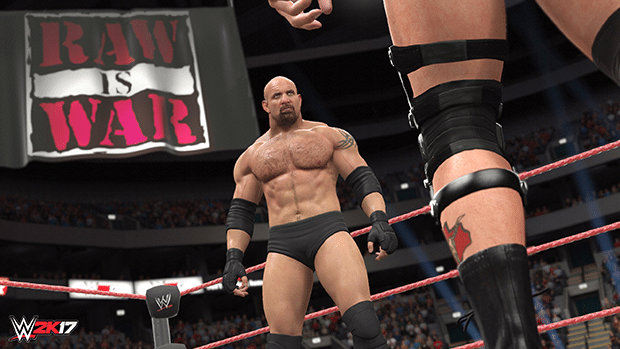 Before moving on, you will be glad to know that the annoying submission system from 2K16 has been fixed to give you more control as you move the wedge while trying to make your opponent submit or as you try and escape. 2K promised an alternate submission system allowing button mashing as well.
The first game I played was a Backstage Brawl, and while it is good to see more and more requested modes getting added, I found the implementation lacking. Your first game will be fun as you explore the backstage area and enter various rooms to try and destroy a TV by Irish whipping your opponent, but things stay the same regardless of arena. This means the backstage area will look more or less the same if you play at Wrestlemania or Raw.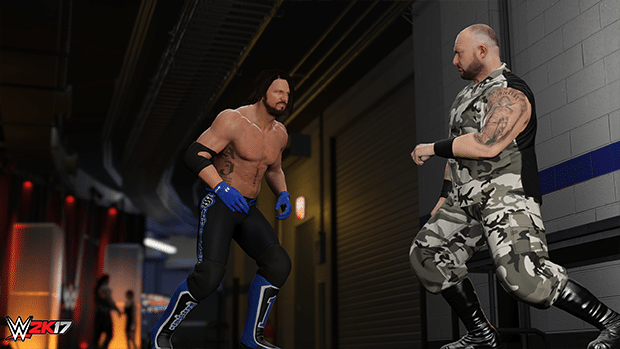 This is a far cry from how varied this mode was in games like Here Comes The Pain on PS2 and even WCW Backstage Assault. I played as Goldberg against the American Badass variant of The Undertaker and ended up finishing the game with a Jackhammer that resulted in a KO. Backstage Brawl matches have no pins and end with a KO only. They also do not feature entrances for wrestlers. I did enjoy this a lot more than just the usual falls count anywhere matches in the ring.
You can also get into the crowd for the first time in nearly a decade. The feature introduced in Smackdown Vs Raw 2007 but removed soon after has made a return to WWE and the implementation is really good. Everything is connected and the areas you can wrestle in are a lot bigger. The crowd, on the other hand, has still not undergone the visual improvement it needs to look up to par with current-generation consoles. Hopefully when 2K drop support for old generation hardware, we will see massive improvements. Until then, expect more of the same with some enhancements and tweaks and maybe a few new features thrown into the fray.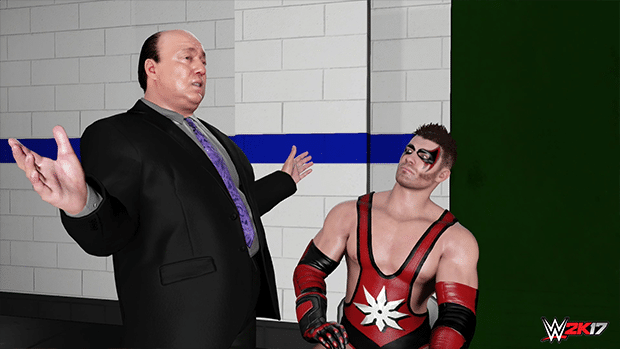 The roster in 2K17 is the largest yet as is expected from 2K, but the visuals for each wrestler are different. Some wrestlers still look a lot better than others, but it is great to see Goldberg make a return albeit as a preorder bonus. In fact, just having a wrestling game with Brock and Goldberg in it will make any fan of Here Comes The Pain giddy with excitement.
Other improvements from last year's entry involve the customisation options available. While many don't even bother with this stuff, it is good to see more options added so fans like myself can spend time and create more accurate versions of wrestlers who may not have made the cut for 2K17. I also spent a few minutes to edit The Big Show's entrance so he jumps into the ring like Lita with her music and will not stop laughing about it.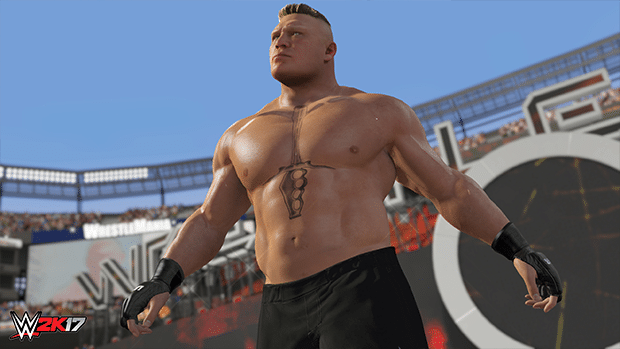 WWE 2K17 is more of the same with some improvements and additions, and that is a bit disappointing. Granted they have no competition in the WWE gaming space, but after multiple entries in the WWE 2K franchise, I expected a lot more. PC gamers can expect WWE 2K17 a little later as it is in development, but not launching with the console version.
WWE 2K17's pre release build had a few technical hiccups, but I'm sure they will be ironed out by launch as it is set to release on current and previous generation consoles on October 11. I remain cautiously optimistic about the final game to play through changes in MyCareer mode as Paul Heyman is now an important element in it. Stay tuned for our full review of WWE 2K17 that will be around the game's release.