A great character can carry a mediocre game on his/her shoulders. Some of them catapult an already great game into legendary status. And a few stay with us much after we've forgotten the game. This is one of the new categories we've introduced this year because we wanted to recognise the efforts to bring a few polygons to life using outstanding dialogue and voice acting.
Alistair from Dragon Age: Origins has so many layers to him, but what oozes most from him is his charm, and once that sheds away, his vulnerability about his circumstances. He is a pawn in the great game of politics in Ferelden, yet he never loses heart or his sense of humour. Cigar chomping, handlebar moustachioed Captain Price returns in Call of Duty: Modern Warfare 2 as Makarov's nemesis. There is a moment when his actions are a bit loopy, but we will put it down to the years spent in the Gulag. He saves the day once again with the faithful Soap MacTavish. It must be the moustache.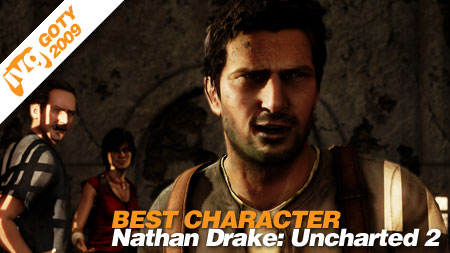 Captain Qwark, space hero extraordinaire, whose perceived loyalty swings like a pendulum, returns once again in Ratchet and Clank's latest outing, providing us with hilarious moments and this time showing more guts than his previous outings. His nomination has been largely influenced by his portrayal of Nurse Shannon. A robot that flips the finger, dances on its wheel, and has the most amusing metallic nasal twang – what's not to like about Claptrap, denizen of Borderlands? Hunted mercilessly by the evil residents of Pandora, we cannot wait to see his return in Borderlands 2 – mainly because we need to hear "Hello Stranger" one more time.
Eddie Riggs is pure awesomeness – he brings a combination of metal love and wisecracks to the screen which helps us forget that the rest of the game is a complete letdown. Jack Black voices Eddie Riggs and lends him the persona from School of Rock. Assassin's Creed 2 stands out this year for gameplay, story, setting, and its characters. The biggest difference is in the protagonist – while Altair seemed all powerful and stoic and was already a trained Assassin, Ezio's story is different. Ezio is nobleman's son, a ladies' man and a mama's boy. When things go bad, his quest for vengeance turns him into an assassin, and this journey is as much about personal growth as about forwarding the story in the Assassin's Creed trilogy.
This year's award goes to the final nominee – Nathan Drake in Uncharted 2: Among Thieves. Nathan returns to find the magical city of Shangri-la and with his trademark panache, saves the day. Nathan is not the testosterone filled superhero we expect – he is scared of bombs, bullets, knives, trains, cars, clowns, and relationships. Did I mention clowns? He slips, slides, jumps, shoots and even sneaks into enemy territory and the hearts of IVG members. We just keep wondering why he picked goody two-shoes Elena over Chloe.
IVG Staff Pick: Ezio Auditore (Assassin's Creed 2)