It was great to have sequels to popular franchises such as Call of Duty, Halo, Uncharted, Killzone, Resident Evil and Assassin's Creed, all in one year. But an unfortunate side effect to such a glut of big budget sequels was that some great games that lacked the hype or rich pedigree went by largely unnoticed. We give these quality titles their due in our Best Game No One Played category.
Plants vs Zombies was 2009's World of Goo; a little indie PC game that no one saw coming, but one that demanded everyone's attention once it was here. Call of Juarez: Bound in Blood is a brilliant sequel to a good, if somewhat unpolished, game. It looks good, it plays well, it tells an engaging story, and it's one of the best Wild West games to come along in a while. Red Faction: Guerrilla is a drastic change in direction for the series. What used to be a linear first-person shooter, is now an open-world third-person action game. The highlight was the game's Geomod 2.0 engine, which helped deliver environmental destruction unlike anything we've seen before.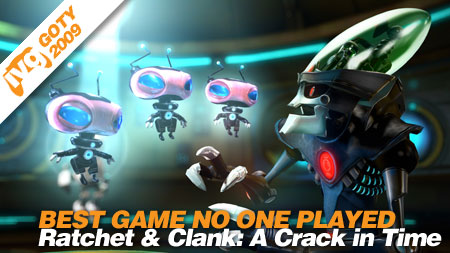 The guys at Raven Software must be cursing their luck. Years often go by without a decent superhero game, and when they finally brought us a good one in X-Men Origins: Wolverine, it was overshadowed by Batman: Arkham Asylum. If its any consolation, they can at least claim to have made 2009's best game based on a movie. It's hard to find fault with Colin McRae: DiRT 2, apart from the fact that it moved away from the series' sim roots. But what it did, it did exceeding well. So well, that it was voted our Best Racing Game of 2009. Bionic Commando got average reviews, the studio that made it is no more, and it was at least part of the reason Capcom decided to make all its future games in Japan. That doesn't make the game sound too good, but it actually, surprisingly, is. And more than anything else, it taught us that in the event of a nuclear attack, when all else is lost, we can count on Pepsi to still be there.
But the IVG members, as well as the staff, believe that Ratchet & Clank: A Crack in Time is the best one of the lot. It's disheartening to see the R&C series relegated from 'must buy' to 'bargain bin purchase' status in a few short years. This may well be the last Lombax-robot adventure for a while, and if it is, Insomniac couldn't have given the long-serving duo a better send off. A Crack in Time takes everything we've loved about R&C games over the years and improves upon it without losing sight of what made it great in the first place. It's the best Ratchet & Clank game of them all, and sadly, it's the Best Game No One Played.
IVG Staff Pick: Ratchet & Clank: A Crack in Time