Platformers have seen a bit of a resurgence over the last few years. 2008 was a fantastic year for the genre and 2009 was no different. And it's the traditional side-scrolling platformers that dominated our nominees for Best Platfromer. In fact, only one of the five nominees this year is a 3D platformer.
First up is a classic that keeps reinventing itself. After a 3D outing as Super Mario Galaxy, the second Mario platformer for the Wii – New Super Mario Bros Wii (how do they come up with these?), goes back to the side-on perspective. NSMB is no cakewalk. In fact, the difficulty is punishing, but thanks to ingenious level design, frustration is kept to a minimum, and enjoyment to the max. 2008's big PS3 exclusive – LittleBigPlanet, made the move to the PSP in 2009, and the result couldn't be more satisfying. Nearly everything we loved about the PS3 version has remarkably been carried forward to the handheld intact, including the level editor, and the ability to download user-created levels.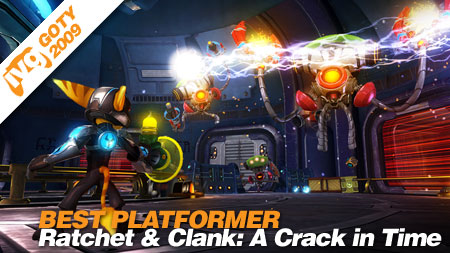 The first thing you'll notice about Trine is how beautiful it is. Despite being a side-scroller, the levels are incredibly detailed with brilliant lighting. But there's more to it than that. At the heart, Trine is an action platformer with fun puzzles, heavily physics-based level design, and gameplay that is polished to near perfection. Also in 2009, the makers of The Maw brought 'Splosion Man to Xbox LIVE Arcade. A speedy, challenging platformer featuring an explosive main character who seems to be on a never-ending sugar rush, 'Splosion Man is a blast to play, and even more so in the game's 4-player co-op mode.
Our last nominee is Ratchet & Clank: A Crack in Time; the only 3D platformer of the lot. A Crack in Time features all the signature gameplay mechanics we're used to, but builds upon them by throwing a few new additions to keep the gameplay fresh. Amongst these are hover boots for use on booster pads, and planet-hopping side missions which also form the basis for some of the most fun classic platforming segments in the game. The tricky puzzles, eccentric characters and outrageous gadgets are all here too. Little wonder, then, that Ratchet & Clank: A Crack in Time is the member and staff pick for Best Platformer of 2009.
IVG Staff Pick: Ratchet & Clank: A Crack in Time