If analogies were to be drawn between gaming and movies, shooters would surely be the equivalent of big budget blockbusters. Being the greatest proponents of the modern day rage that is online multiplayer gaming, a great shooter can be a big contributor to the console's overall success.
In fact, the emphasis on multiplayer often leaves the developers guilty of ignoring the single player component of shooters. 2009, however, was unique by featuring a lot of diversity in the genre, and each of the nominees had its own unique claim to fame. Call of Juarez: Bound in Blood grabbed eyeballs through its Wild West setting and a strong story. The cooperative shooter space was filled admirably by Left4Dead 2 and Borderlands, designed from the ground up to bond with friends by sharing beautiful moments of bloodshed and destruction in a zombie-infested world and a hostile alien planet respectively.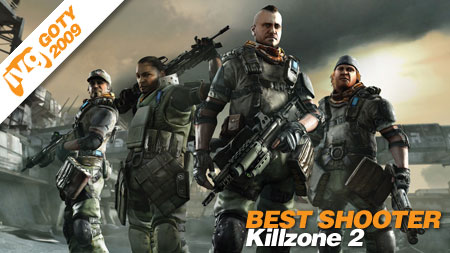 Then of course, are the three names that serve as the trinity of awesome in shooters – Halo, Call of Duty, and Killzone. The gaming gods, over which devout fanboys shed bandwidth in cyber battles, locked horns with sequels for each franchise releasing this year. Through its identity crisis of being a sequel or an add-on, Halo 3: ODST delivered an interesting story and the addictive Firefight co-op mode, making it a worthy addition to the legendary Halo series. Infinity Ward proved once again its ability to make a great game that sells billions. The fact that many gamers were willing to put down the first Modern Warfare only after the arrival of the sequel shows how strongly the series has impacted the online shooter space.
Above all these, the members chose Killzone 2 as the shooter of 2009, and we concur. After everyone was done bickering over the authenticity of the infamous 2005 trailer, they slowly realised that the game was pretty darned good. Graphics can only take a game so far; it was the gameplay, with its deliberate slower and more tactical approach that pulled everyone in. This, coupled with its customisable classes and shifting online modes in multiplayer, enabled the Killzone franchise to create and occupy its own space in the genre; one which is revisited again and again by gamers for the thrill of the warzone.
IVG Staff Pick: Killzone 2