Telling a tale – whether it be about a tail or not – is easy. Getting others to sit through it is not easy. When it's a video game it gets substantially harder because the player has a say in where the story goes. This year we've introduced a new category to honour those games which took up the challenge of presenting an engaging, thought provoking, entertaining story.
Brutal Legend is a rollicking love story set in the world of metal splattered, rather than polished, with Tim Schafer's legendary craft. The twists in this composition more than make up for the disappointing gameplay, and the age old story of the hero discovering and coming to terms with his past is presented on a platter made up of guitar and drums for our aural pleasure. The Wild West has always been the setting for epic twisted storylines, and Call of Juarez: Bound in Blood delivers one of the best adventures in recent times in the midst of sand, bullets and horses. This story of two brothers takes everything we love out of Westerns and presents a tale which will be impossible to disregard – there's honour, betrayal, tragedy, politics, alliances and heartbreak. Giddy up and enjoy!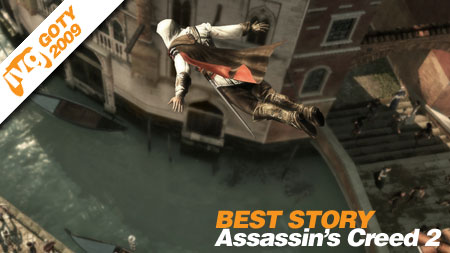 Last year Niko Bellic's adventure of a Russian immigrant's rise to power and revenge in the land of opportunity astounded us. Rockstar continues in the same vein with The Ballad of Gay Tony, the second expansion pack for Grand Theft Auto IV. The Ballad of Gay Tony is about two friends sticking together through thick and thin – and in this story of guns, glitz, and glamour, thin is par for the course. The friendship of Luis and Tony is tested to the breaking point and a simple story of a right hand man transforms into one of the many entertainers in Liberty City. Super hero games usually end up formulaic – guy gets power, goes through hordes of enemies, and takes down the bad guy. inFamous (bad typography not withstanding) takes the story of Cole's rise to power and transforms it completely on its head. Cole saves the city, but not in a manner we expected. inFamous stands out in delivering a superhero game which is not constrained by the genre.
Bioware has been known for delivering epic stories; just look at their line up. Dragon Age: Origins needed to pull a whole warren of rabbits out of its hat to even be considered in the same league as Baldur's Gate II or Mass Effect. It not only summoned the rabbits but smashed the competition out of the ring. An ancient evil has beset the land of Ferelden and a forgotten order is resurrected to fight it off. The journey from the first moment to the final battle is filled with twists and turns which will move you – a king comes out of the wild, a witch falls in love, a hero constantly walks the line of the greater good, and balance must be maintained constantly in the kingdoms making up Ferelden. Dragon Age: Origins is the IVG Staff Pick for Best Story simply for keeping us glued to the screen for over 50 hours to know what happens next, and it never fails to deliver. Special mention must be made of the Landsmeet sequence for showing us that a conversation can excite us more than the hordes of demonspawn.
Assassin's Creed showed a lot of promise but its repetitive gameplay turned off many. Those who managed to curb their frustration were presented with a unique story in the end. Assassin's Creed 2 delivers in spades in every department, building on the premise of the series and presenting a political intrigue set against the backdrop of Italian Renaissance. Ezio Auditore's story of revenge and self discovery is a small part of the larger landscape of the rise and fall of the most powerful families of 15th century Italy, which itself is intertwined with a millennia old battle for power between two powerful sects. Assassin's Creed 2 gets the IVG GOTY 2009 for the Best Story, and hats off to Ubisoft for teaching us that the Renaissance was not just about nudes masquerading as art.
IVG Staff Pick: Dragon Age: Origins