The latest Xbox 360 dashboard update is being rolled out now, and while it isn't a complete overhaul of the UI, there are a few new features thrown in. Unfortunately, some of them are useless to us in India.
The Xbox 360 now has a web browser. Internet Explorer is now available for Xbox Live Gold subscribers as an optional download. It supports HTML5 and renders pretty much any site quite well. It doesn't support Kinect, but it will work with Smartglass once that goes live. Why you would want to control the Xbox 360's browser from your phone or tablet when you can use the one on your portable device itself is beyond me though.
Another new feature is pinning. I had hoped that this feature would let me customise the tiles on the home screen of the Metro UI with my own favourite games. In reality, all it does is add a small 'My Pins' tile on the home screen that will take you to your pinned games and apps, while the remainder of the screen still features content that Microsoft wants you to see.
Kinect is now available in 12 additional countries, but India isn't one of them, so let's move right along.
Two of the other new features Microsoft has been talking about are a little confusing to me, because they've been there all along. The first is the ability to rate content more easily. When you're on a game page, pressing X takes you to the details page, where you can now rate games from one to five starts. I'm guessing the new feature here is that Xbox Live will now consider your ratings and those of your friends to hand pick recommended content on your home screen.
The second new feature is Recent. Again, this is quite similar to the Quick Play option from before that let you jump right into games that you had played last.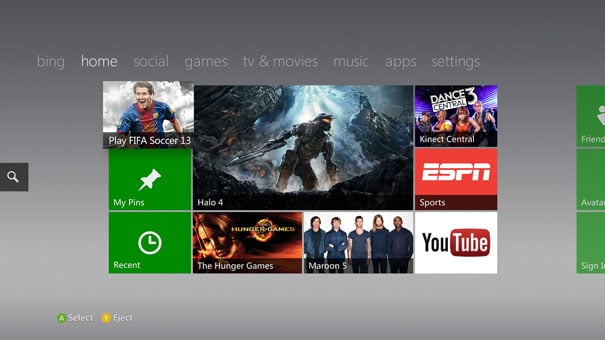 This update also beings Xbox Music, which is a reincarnation of the Zune Marketplace. Once again, not available to Indians.
So there you have it. An incremental dashboard update that doesn't bring anything new that's worth screaming about from the rooftops, but makes your Xbox 360 experience just a little bit easier.