A FIFA World Cup game from EA Sports was inevitable, but a surprise lies in the platforms its (not) headed to.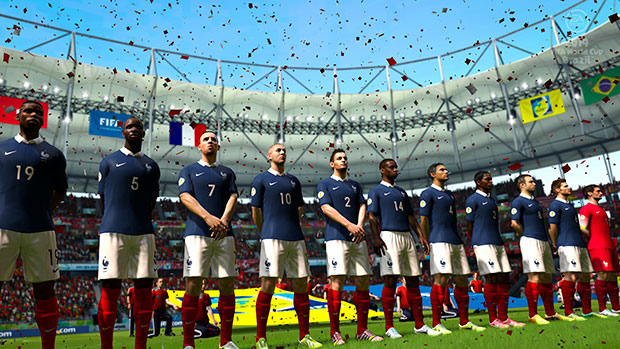 EA has released a brief teaser trailer for the upcoming game and the PS3 and Xbox 360 are the only platforms announced. It seems rather strange considering the PS4 and Xbox One will be well within their stride by the game's 17th April release date. The lack of a PC version seems even more strange.
Unlike Euro 2012, which released as an expansion to FIFA 12, 2014 FIFA World Cup Brazil will be a standalone release.
As with each FIFA release, EA has a bunch of new features to announce for the new game, and they are:
Explosive Movement: The ability to accelerate, decelerate, and change direction quickly on and off the ball.
World Class Control: Response dribbling and pinpoint passing to reflect the athleticism and skill of players' national football heroes.
One hundred new animations, including passing, saves, and penalty kicks.
The numbers: 203 national teams, 7,469 players, 19 officially licensed managers, and 21 new stadiums including all 12 authentic stadiums from Brazil.
All-new crowd scenes, including banners, flags, and seat cards in the stadium.
Live City events: Score a goal with England and see fans react live from the centre of London.
Road to the FIFA World Cup: "The most immersive tournament mode from any EA Sports title." Players can choose from 203 national teams and play with one to 32 players locally through the qualifying rounds, and on to the group stages.
Tournament updates from EA Sports Talk Radio, featuring Ian Darke and Andy Goldstein, or Roger Bennett and Michael Davies, with over 50 hours of recorded content.
Road to Rio de Janeiro: An all-new mode that lets players win their way across a map of Brazil's 12 host cities in licensed and authentic stadiums.
Check out the teaser trailer below.