Federations of Gamers (F.o.G) are holding their next competitive event on 26th June 2011, and the concerned game is Smackdown vs Raw 2011. There will be prizes, drinks, and a lot of other goodies to be given away at the event. There is a small entry fee and some rules to be followed, which you can check out below.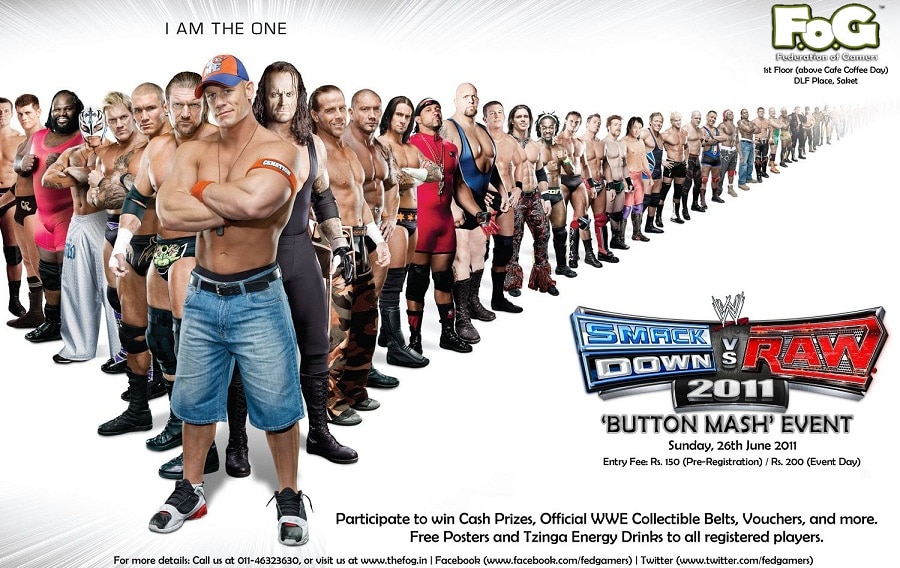 Platform: Xbox 360
Location: Federation of Gamers (F.o.G), 1st Floor (Above Coffee Day), DLF Place Saket, New Delhi
Time: 11 am onwards
Entry Fee (per person): Rs 150 (pre-registration)/Rs 200 (event day)
Friends and family must register at the store itself.
All registered participants will recieve a free poster and Tzinga energy drink.
Any in-game WWE athelete can be selected.
No custom-created characters allowed.
Players can use their own gamepads.
Additional match rules to be disclosed shortly.
Prizes:
1st place prize – 1 Official WWE World Heavyweight Championship Collectible Belt + Rs 2,000 cash
2nd place prize – 1 Official WWE Championship Collectible Belt + Rs 1,000 cash
3rd place prize – F.o.G Vouchers worth Rs 500 + Rs 500 cash
To know more about F.o.G, you can check them out on Facebook, Twitter, and Youtube, or at their official website.