Konami has officially announced Pro Evolution Soccer 2014 at their pre-E3 show. While an exact release date was not provided, it seems the game will ship with a bunch of new features powered by Fluidity, an adapted version of Konami's Fox Engine.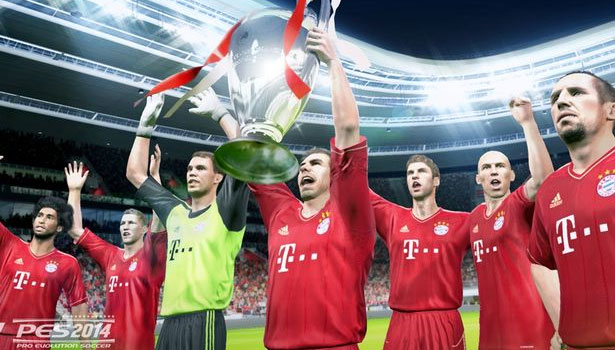 Here's a quick look at some of those new features:
True Ball System: With the true ball system, players will have greater ball control, allowing them to move the ball in 'any direction', fooling their opponents into committing mistakes. They will also have greater control over how they receive passes.
 Motion Animation Stability System: In short MASS, which control players' collision animation, something akin to Fifa's Impact engine. It helps make PES 2014 more realistic by increasing the physicality of challenges between players. There are more variety of tackles than the staple foot and sliding tackles.
Heart: Adding a bit of emotional touch to an otherwise physical game. Heart enables the players to be affected by factors such as morale and motivation levels. Various elements can affect those features such as whether it's an away or home game, individual performance, team spirit etc. This will add in a touch of realism in the game, making it closer to its real life counterpart.
PES ID: Introduced in PES 2013 and limited to 50, PES 2014 will have twice as many stars that are instantly recognized by their playing style.
Team Play: This allows the players to apply pitch specific tactics involving three or more players. The players can preset the tactics in key areas of the field allowing them to exploit defensive weaknesses beforehand.
Core: The core game play has been fine tuned and improved to satisfy the fans demands. Everything from the flow of the match to the look has been tweaked to be better. A lot of improvement have been made in elements such as freekicks and penalties.
PES 2014 will be releasing on the PS3, Xbox 360, PC and PSP later this year. Plans for Wii U and 3DS/Vita version has been dropped. Are you excited with the new changes? Do you think PES 2014 will give Fifa 14 a run for its money? Let us know in the comments below.
For more on E3 2013, check out check out IVG's E3 general discussion thread.