Looks like EA is getting ready to jump onto the MOBA bandwagon. For those of you who don't know, MOBA stands for Massive Online Battle Arena, and is currently  dominated by the likes of DOTA 2 & League Of Legends (LOL).
Titled Dawngate, the website of this yet to be announced game went live earlier than expected since EA hasn't even made an official announcement yet. Twitter user 'superannuation' spotted this website, and was quick to share the news, which then spread like wildfire. The website lists EA and Waystone games as the parties behind Dawngate. It also states that Dawngate is Waystone's first game.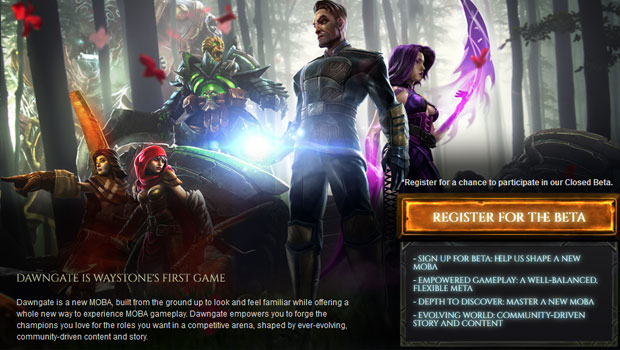 On visiting the page, readers can read up on Dawngate, and find an option that allows them to register for the upcoming beta. Here's a quick description of the game:
Dawngate is a new MOBA, built from the ground up to look and feel familiar while offering a whole new way to experience MOBA gameplay. Dawngate empowers you to forge the champions you love for the roles you want in a competitive arena, shaped by ever-evolving, community-driven content and story.
Signing up requires an Origin account. EA is yet to comment on this game's existence.