Update: WWE 2K15 for PC is now available for preorder on Steam at a 10% discount, with a release date of 28th April.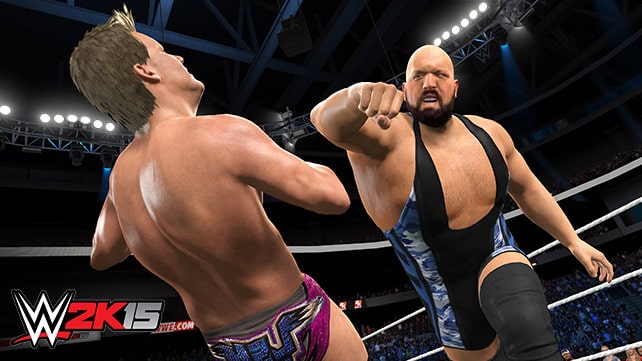 The Steam page also features the game's minimum and recommended PC specifications:
Minimum system requirements:
OS: 64-bit: Windows Vista SP2
Processor: Core 2 Duo E6600, AMD Athlon 64 X2 5400+
Memory: 4 GB RAM
Graphics: Nvidia Geforce GTX 450 or AMD Radeon HD 5770, 1GB GDDR
DirectX: Version 11
Hard Drive: 22 GB available space
Recommended system specs:
OS: 64-bit: Windows 7 / Windows 8
Processor: Intel Core i5-3550, 3.30 GHz
Memory: 8 GB RAM
Graphics: Nvidia GeForce GTX 570 or AMD Radeon HD 6970
DirectX: Version 11
Hard Drive: 22 GB available space
Additional Notes: At least 2 GB DDR Video Memory
While 28th April is the release date on Steam, we've contacted both 2K and distributor E-xpress Interactive to confirm the game's retail release in India.
Original story: WWE games are no longer exclusive to consoles (and mobile). After over a decade of absence on PC, WWE 2K15 will making its PC debut in the coming weeks.
The game was first released on Xbox 360 and PlayStation 3 last October, with PS4 and Xbox One versions releasing he following month.
The PC edition will include all the content from the new-gen console version, including the MyCareer and 2K Showcase modes. In addition, PC gamers who pick up their copies on day one can also expect immediate access to two versions of Sting and two of Hulk Hogan.
Cover star John Cena is clearly thrilled that WWE 2K15 is finally coming to PC.
"I grew up playing games on my PC," he said. "Texas Instruments, Commodore 64… I was a huge PC gamer growing up, so this is big. Not only for our fans, but for me personally as well. Fans may not know this, but I was such a huge PC gamer that I bought a living room entertainment system just to play PC games back in the day. So don't be surprised if you flash forward 50 years and yours truly is sitting in his living room playing computer games!"
And there's more great news for PC gamers: All post-release DLC available on the console versions will be included in the PC version for free.
"That's an incredible amount of content: 36 extra characters, 4 new managers, 26 matches, 46 entire single player stories and cut scenes in 2K Showcase, and a whole lot more. It doesn't take a rocket scientist to figure out that that's a pretty awesome deal," says Cena.
With the recent launch of WWE 2K being for Android and iOS, WWE games will now cover all popular platforms.
We'll have an exact release date and price for the PC version of WWE 2K15 in India as we hear about it from the game's Indian distributor, E-xpress Interactive.
In the mean time, check out our review of WWE 2K15 here.