At the Xbox Spring Showcase last week, around 50 Xbox 360 consoles were spread all over the venue's lounge area. However, only one of these consoles at one end of the room was dedicated to Trials Evolution, Redlynx's genre-bending new game that can probably be described as a physics-based motocross puzzle platformer. It's the sequel to Xbox Live Arcade's award-winning, record-breaking Trials HD, and after playing it for about an hour, I'm convinced that calling it Evolution is quite an understatement.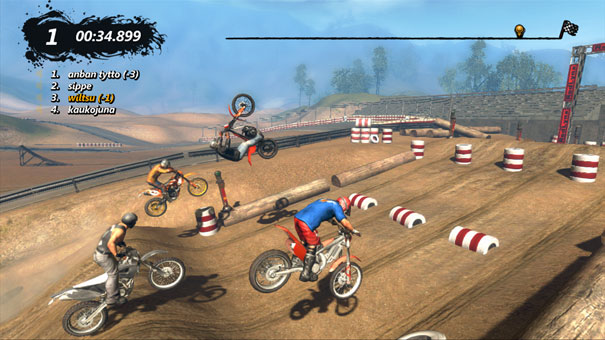 Trials started out as a hard-as-nails browser PC title with unforgiving physics and a massive learning curve. It demanded utmost concentration, lightning quick responses and lots of trial and error. While that often led to a rewarding experience when you did manage to conquer its trickier courses, many players also found the early games too punishing. The series' Xbox 360 debut (Trials HD) was somewhat more forgiving in the difficulty department, but it wasn't easy by any stretch of the imagination. The difficulty level is milder still in Evolution, but thanks to everything that Redlynx has thrown into it (and I really couldn't think of anything else that they could have), it's also the most fun Trials game I've played.
A game that encourages user generated content isn't something you see too often on the Xbox 360, but Trials Evolution would be right at home in Sony's Play, Create, Share line-up with its LBP-esque creation, customisation and community features. You're given a massive sandbox and an extensive set of tools to help you create your own courses, complete with ramps, blocks, props and even scripted events to make things interesting. If you'd like, you can create a different genre all together. You can even alter the camera perspective from the standard 2.5D to create a top-down shooter or an FPS. But if you'd rather not get into all that, simply set a start and end point anywhere, and your course is ready. A Redlynx representative simply set the start point at the top of the hill and the finish at the bottom, and within seconds, we were careening down the steep, bumpy hillside. With equal ease, he set up a ramp at the top of the hill and removed some trees obstructing our path along the slope to make our descent more enjoyable.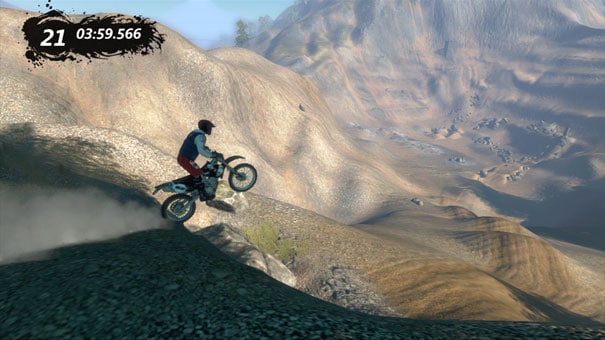 Of course, you can make your courses as technical as you'd like, since all the courses that are included within the game were created by the developers using the same tools that are available to the player. And if you do end up creating a level you're proud of, you can share it for free with the world over Xbox Live, and at the same time try out levels created by others for free. While Trials HD too had creation tools, they were limited and only allowed sharing within your friends list. In Evolution, the Track Central area displays multiple feeds that let you discover courses based on ratings, developer recommendations or type, or you could use the custom search to search by difficulty or creator name.
The courses, as we discovered, are as diverse as they could be. Some are fast-paced, some are slow and require intricate balance and precision, while others are downright bizarre, like this particular course that starts off with a massive ramp that propels you into the air and deploys a parachute. The rest of the way, you're required to glide up and down and activate switches located at regular intervals. There's enough variety here to satiate the hardcore Trials fan's hunger as well as to welcome newcomers into the fray.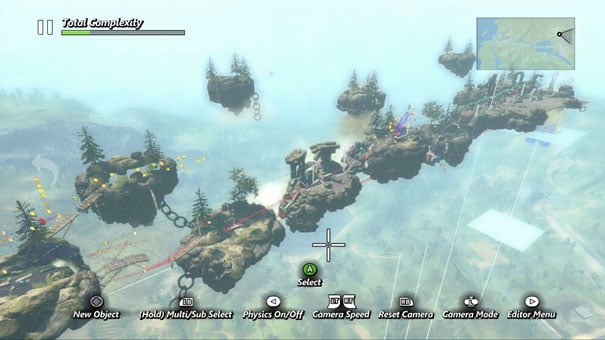 What makes Trials Evolution a must-buy in my book, though, is its multiplayer. There's four-player offline and online multiplayer, but unlike other offline multiplayer vehicular games, this one doesn't use split-screen. It employs a checkpoint system, so any player that crashes or falls too far behind in the race respawns at the next checkpoint as the leader does, but with a point deduction. What this does is removes the annoyance of reducing the screen size and also makes sure that every finish is a close one because all players cross the final checkpoint together. The winner is not decided purely by the finishing order, but by a combination of the finishing order and the number of respawns used along the way. It's effective, competitive and insanely fun, and throughout the two-day event, we'd frequently hear screams from excited journalists engrossed in multiplayer competition at the Trials booth.
The Xbox Spring Showcase had quite a large XBLA offering, but Trials Evolution stood out quite comfortably as the best of them all. Calling it Evolution really seems like a disservice to the game because the number of new features and the amount of content packed into it makes Trials HD look anorexic in comparison. Trials Evolution is headed exclusively to Xbox Live Arcade sometime over the next three months, and if you're an Xbox 360 owner – Trials fan or not – this is one game you do not want to overlook.