After a prolonged silence, Sony has provided an update on PS5 launch plans for India. While no release date has been announced for the PS5, the brief statement does provide a few hints.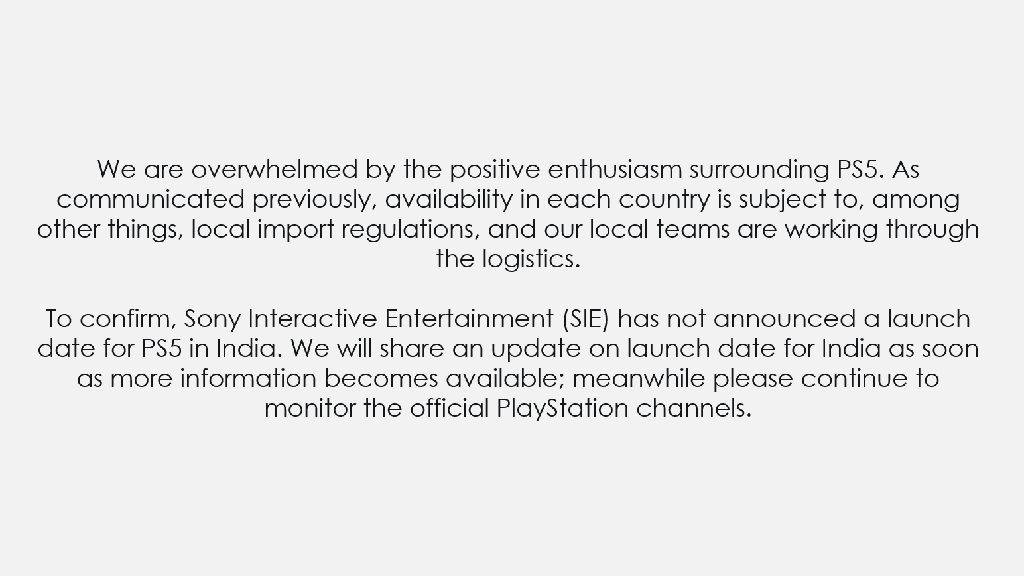 An official statement on the PlayStation India social media channels states, "We are overwhelmed by the positive enthusiasm surrounding PS5. As communicated previously, availability in each country is subject to, among other things, local import regulations, and our local teams are working through the logistics."
The "as communicated previously" part refers to the global launch date announcement (see image below), where a November 19 launch date had been announced for most markets, along with fine print stating that actual release dates would vary depending on the local import regulations for each country.
One of these regulations is BIS certification, which electronics products with integrated power supplies have to go through before they can launch in India. However, from speaking to our sources in the gaming industry, we understand that BIS certification would no hold up a launch such as this.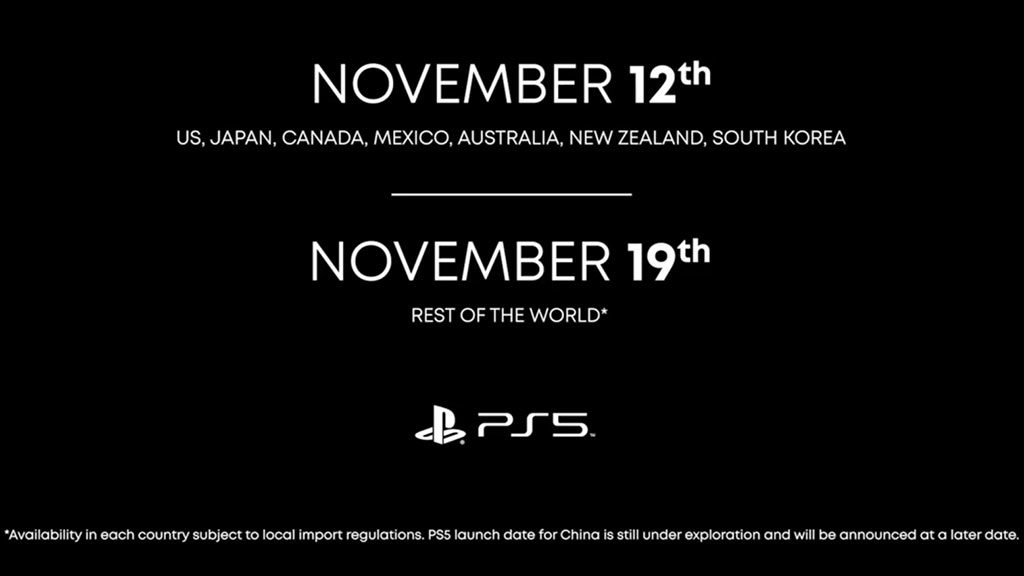 Moreover, the Xbox Series X and Xbox Series S would have gone through the same import and BIS process. Microsoft India was still able to launch both consoles alongside global launch dates, albeit with limited stocks that led to both consoles selling out.
PS5 India launch: Logistics issues
However, the "working through the logistics" part of the statement hints at logistical challenges in launching the PS5 in India. Sony has been scrambling to ramp up PS5 production to meet global demand amid the Covid-19 pandemic, and India could well have fallen down the priority list in terms of launch allocation due to insufficient availability of consoles.
"To confirm, Sony Interactive Entertainment (SIE) has not announced a launch date for PS5 in India. We will share an update on launch for India as soon as more information becomes available; meanwhile, please continue to monitor the official PlayStation channels," the PlayStation India statement adds.
Despite being part of Asia, for the PlayStation business, India falls under the Sony Interactive Entertainment Europe (SIEE) region. This means that India vies for its PS5 allocation within a region that includes all of Europe (including Russia), the Middle East and Africa.
While India isn't as big a market as some of the larger European nations, it is a bigger market for PlayStation consoles than several others in this region. Sources in the gaming industry tell us that India is a bigger market for PlayStation consoles than countries like South Africa, Turkey and Croatia. The PS5 will be launching in all of these countries on November 19.
However, with this PlayStation India statement, it is now almost certain that PS5 will not launch in India on November 19. The PlayStation India website has been updated with this date several times over the past month or so, but Sony India has confirmed to us that these were errors.
That is most likely due to the fact that the PlayStation India website is not controlled from India but is updated simultaneously for much of the SIEE region. Therefore, whenever it is updated for the entire region, the same date appears on the India website.
PS5 India price
What Sony India has announced so far, however, is the price of the PS5 as well as the price of its peripherals and some first-party games. The PS5 price in India is Rs 49,990, while the PS5 Digitial Edition (without disc drive) is priced Rs 39,990.
Prices for PS5 accessories and peripherals as well as some first-party PS5 games can be found here.
Check out all our coverage on all things PS5 here, and be sure to check back soon for more PS5 India news.